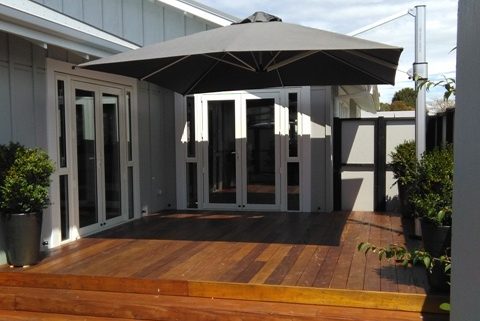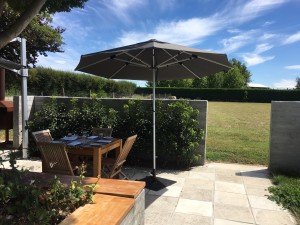 Douglas Outdoor Living are proud to supply Hawkes Bay with Shade7 Outdoor Umbrellas. We have recently completed a few umbrella installs across Hawkes Bay including Clearview Winery, a local church and some residential properties.
Umbrellas are a simple, cost effective way to add shade protection to your outdoor living area. Some umbrellas are cantilevered allowing you the opportunity to tilt them to stay protected from the sun all day long. To get the longevity out of the umbrella it is important to maintain them year round. Shade7 Umbrellas are designed to be durable and withstand New Zealand weather conditions. Your umbrella will, however, last longer if you take the appropriate steps to maintain it through the years. Shade7 have put together some simple tips on how to maintain your umbrella.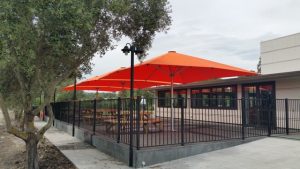 How to maintain your outdoor umbrella:
Don't leave your umbrella open in excessive winds or when not being used. Close the umbrella and firmly apply the strap around the middle of the umbrella holding the arms firmly against the umbrella mast.
To ensure your umbrella fabric stays looking good for the maximum number of years, its recommended that you protect the umbrella with a cover bag when not in use. This reduces wear and tear on the fabric caused by pollution, dust, salt spray, pollen, birds, wind and excessive exposure to the sun. This will greatly extend the life of the umbrella fabric and also the frame.
It is beneficial to periodically wash your umbrella using fresh water from a hose. This will help to remove dirt and keep the umbrella and fabric clean. If required you may want to give the full umbrella frame a wash with warm soapy water to remove any build up of dirt or grime.
To read more on how to maintain your Shade7 Umbrella, simply go to the Shade7 website.