The Douglas Auto & Marine Upholstery team were lucky enough to complete a job at Outfoxed in Te Awanga recently, customising and installing wind-breaks for their converted shipping containers.
The shipping containers are joined back-to-back to create one large group space, and are designed to shelter Outfoxed's adventure guests when they're not outside throwing knives or dodging paint-balls.
Each window required a custom screen to be designed and crafted, and to stop the rain coming in through the window our canvas specialists also created some clever covers for the windowsills.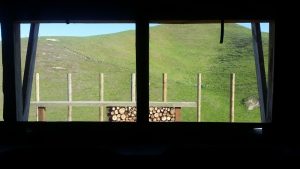 It was a real pleasure to provide a solution for this fun and innovative Hawke's Bay business.
If you may have need of a custom canvas solution for your home or business, talk to our team to get an idea of what's possible.
Our team are highly skilled and have experience in all manner of fabrics and innovations, including aircraft, commercial covers, motorhomes – you name it.
We absolutely love a challenge!