The annual Outdoor Fabric Products Association of New Zealand (OFPANZ) Conference is a prestigious event and sees over 80 fabricators from across the country vying for an award each year. For entrants it is a chance to showcase their best work from the year and benchmark their fabrication skills against the best in the trade.
Held in Christchurch in 2018, the Award for Excellence in Marine Fabrication was awarded to the team at Douglas Auto & Marine Upholstery for our seamless work on a customised boat canopy and covers – The Great White.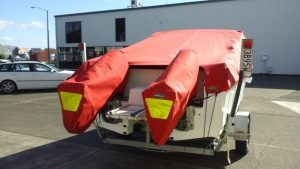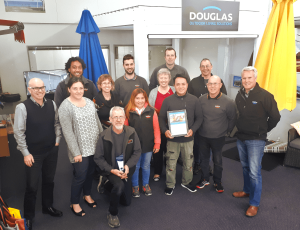 Douglas' Production Manager Peter O'Connell says winning an award is a team effort. "I'm incredibly proud of our team who exceeded our customer's expectations for this job. At Douglas we're about building up the next generation of craftspeople and passing down the skills of the trade, and it's awesome to have those skills recognised at a national level."
More information on the award-winning boat cover can be found here.
The Douglas team of experienced craftsmen are proficient in anything to do with canvas and fabrication – whether it be for boats, vehicles or cushions, to customising solutions for the wide variety of commercial businesses in Hawke's Bay.
No job is too big or small and we welcome you to get in touch to discuss a customised solution for you.