Awards
At Douglas Auto Marine we pride ourselves on quality workmanship, good old-fashioned values and customer service. We have received awards for boat covers, leather re-trim, sunshades, outdoor blinds, waterproof shadesails – a total of 10 "Awards for Excellence" in the past 6 years from the Outdoor Fabrics Association of NZ along with one International Award. In addition three of our Apprentices have been awarded "Apprentice of the Year" awards from the Motor Industry Training Organisation ( MITO).
In 2018 we received another excellence award in Marine Fabrication for a complete makeover of our customer's boat, The Great White.
In 2014 we received an excellence award in Marine Fabrication for a storage and road cover for this racing catamaran. Our client required a comprehensive but very snug cover with emphasis on preventing any possible damage from fabric rubbing or flapping against the varnished wooden hull. The owner wished to fit the cover after the boat is washed down and dry – i.e. while still resting on the trailer. Our final design allowed the cover to slip over the bow like a glove, with the rear being folded around the hull and zipped up. The centre of the cover, which could not fold all the way around the hull due to the tramp mat, was to be tensioned into place using catenary curves and webbing with SR buckles at either end. Further webbing and SR Buckles linking various corners of the cover maintained adequate tension right across the cover.
In addition, our sister company 0800 Sunshade won a 2014 excellence award for this Commercial Shade Structure – Te Kura Kaupapa Maori O Te Ara Hou school in Napier required protection from UV harm and damage for both their intermediate aged children and the playground equipment – and they needed it in less than 3 weeks due to the commencement of Term 1 2014 – the end result … According to the client "Not only did you deliver on time but the quality and look of the shade sails over the playground is outstanding, they've also added fun colours and stimulation to our playground" –
If you need a shade sail or structure at your school or business phone 0800Sunshade.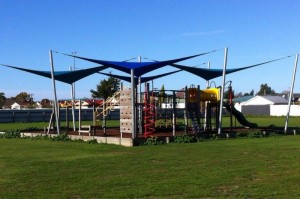 08oo Sunshade also won the 2013 Excellence Award for Commercial Shade Structures with this attractive set of turquoise and royal blue sunshades at Te Kura Kaupapa Playground. Our client was looking for reliable shade that was removable for the winter months. Any new structure had to blend in with existing installations, as well as school and school uniform colours. With the use of 3D conceptual drawings the client agreed concepts, layout and colours. Being able to see the expected outcome convinced the client about the professionalism of 0800 Sunshade as a reliable supplier and the project went ahead – a great project a well deserved award .
The first 2012 award for "best trimming and upholstery" and the international award recognition was for the stylish reshape and re-trim of a 2008 Commodore Ute's car seat upholstery from plain cloth seats to classy leather seats. The second 2012 award was for the "best commercial shade structure" – a waterproof shade sail project at a Hastings kindergarten. In 2010 we scooped awards for a stunning Ziptrak Clear Screen installation in Havelock North and a full boat cover, while to prove our versatility, in 2011 we won the furniture category with an expertly upholstered antique chair.
At Douglas Auto and Marine Upholstery we were absolutely delighted when our team picked up the national and international accolades. The project we entered into the OFPANZ awards was technically challenging, requiring careful placement of foam to reshape the seats while ensuring the airbags in the seats could still deploy. Our team were able to work with the customer and provide a concept of how the finished seats would look, and come up with a solution that was second to none. We are thrilled for our team to be acknowledged by the industry.
The annual OFPANZ Awards are the pinnacle of the outdoor fabrics industry and are hotly contested with companies from around the country entering the 11 categories.
The second 2012 award was for the best commercial shade structure – a waterproof shade sail project at a Hastings kindergarten won by Douglas Auto and Marine Upholstery in conjunction with 0800 Sunshade – one of New Zealand's leading manufacturers of shade sails, shade structures and outdoor patio screen systems.
0800 Sunshade also took home two other awards, winning the categories of "Tensioned Shade Structure over 250m2" and "Domestic Shade Structure" for a shade project at Arthur Miller school in Taradale and residential shadesails in the Waikato. (Watch this space for more photos of these projects)
Douglas Outdoor Living and Auto & Marine Upholstery is Hawkes Bay's specialist in outdoor screens, awnings and canopies, boat and trailer covers and any project involving canvas goods or other outdoor fabrics.
We remain committed to going the extra mile to develop and fabricate the best solution for our clients' needs and giving the best training possible to our apprentices and qualified staff .